Valentine's gifts are something which needs to be special to show your loved one that how much he/she means to you. Buying an expensive gift or a dinner date is a thing of the past. If you really want to make your date feel special, there are a lot of ideas you can work upon to make that special day memorable.
DIY Romantic Valentine Gifts
DIY Romantic Valentine Gifts are something which brings out the creative side of yours and also makes your partner feel special at the same time. There are a lot of ideas which can be utilized to make your gifts look creative and unique. A valentine gift does not have to be a store bought gift all the time. Even if you are looking to buy something special, you can present it to your date in an unusual way.
Making these unique and beautiful gifts at home hardly takes any of that precious time and money. You can make these gifts using simple and easily available household materials. It is really hard to think that the common household materials in your home can actually be put to better use and can be utilized to make such romantic things.
Romantic Valentine Gifts Ideas
12 Months of Dates
This is such a unique idea for your date. The 12 months of dates can be easily made by some pre-planning and creative ideas. You can plan a date for the next 12 months and give a nice surprise to your date. You can pre-plan the dates based on your partner's interest and likes and put them in separate envelopes with a cute message. It is not necessary that the dates have to someplace expensive. You can also plan simple outings for the both of you. Get the Tutorial
Love Notes with Conversation Hearts
Who thought you could make something romantic with the conversation hearts? You can make small notes in the conversation hearts and stuff them inside a vase filled with flowers and present the romantic gift on that special day. If you want to be creative, you can also make a love note using the conversation hearts and present it along with the vase of flowers. Get the Tutorial
Valentine Socks Gift
How about adding a unique touch to your valentines gift? Socks are not only meant for Christmas gifts. You can use socks in a creative way to present gifts to your date on valentines day. You can stuff the gift inside the socks and put them at a place where it is easily visible to your partner. For a more personal touch, you can tie a romantic note with strings around the mouth of the socks and make your gift a romantic one. Get the Tutorial
5 Sensual Surprises
The five sensual surprises is a unique idea to make your valentines day special for your loved one. You can make five boxes at home for the five sense organs and even write them on the boxes in a heart-shaped card. For the boxes, you can use creative items for each sense organs. For example, for taste, you can put your partner's favorite cookie or chocolate inside the taste labeled box. You can use your own creative ideas to fill the boxes and present them as a gift to your valentine. Get the Tutorial
Fabric Envelopes Filled With Candies
You do not have to be a sewing expert to make these fabric envelopes. Just a sewing machine or some thread and needle and a few pieces of fabric and you are done. You can add cute heart shapes and another embroidery on the envelopes for a romantic touch. You can fill these envelopes with candies and hang them around the house to make the valentine day special for your loved one. Get the Tutorial
Heart Thumbprint Platter
Serving a heart thumbprint platter on the dinner table is a very romantic idea on the valentines day. You can choose a fresh and neat platter and draw hearts with your thumbs dipped in contrast colors inside the platter. For a romantic dinner table arrangement, you can place the platter in the middle of the table and decorate the table with candles and lights. Get the Tutorial
Pom Pom Valentine Monsters
Monsters do not have to be scary on the valentines day. You can easily make these cute pom valentine monsters on that special day using few easily available household materials. You can use different colored wool to make the monsters and a couple of stationery items to complete the body. When complete, you can place the cute little monsters on paper cutouts and decorate them in center tables for the special day. Get the Tutorial
You + Me on a Tree
It is simply amazing to imagine that you could make the beautiful piece out of a simple log of wood. You can use a firewood log which has a nice shape and an intact bark. By using some utility tools, you can carve a heart on the bark and put the initials of you and your partner's name in the heart. For a romantic night, you can place this log beside other gifts and a bottle of champagne. This cute and creative gift will stay forever. Get the Tutorial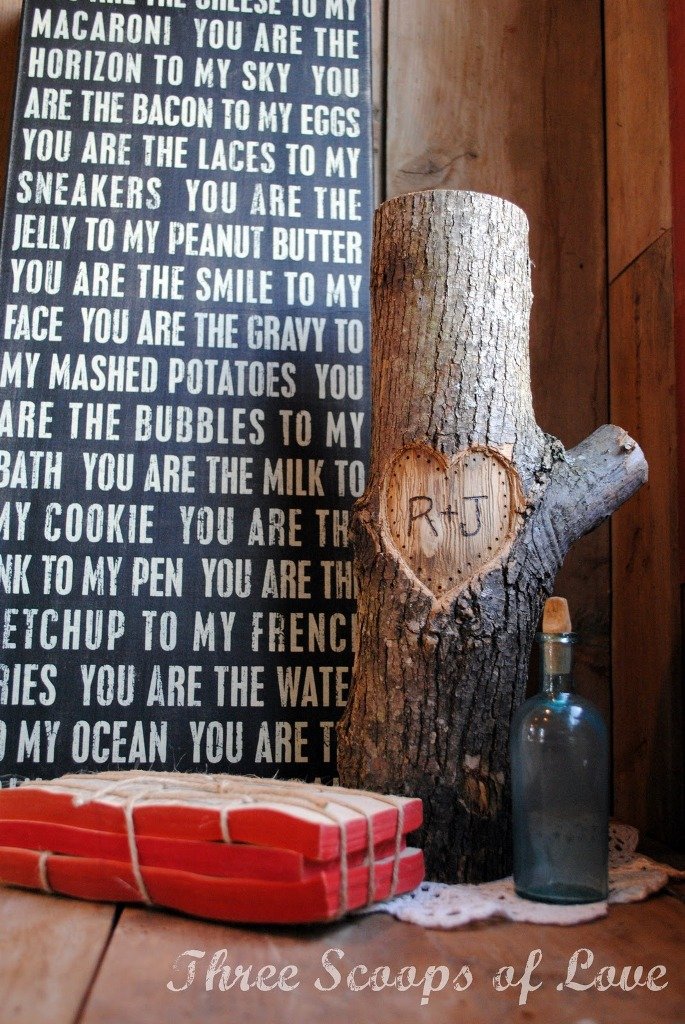 Conversation Heart Rotary Phone
The old rotary telephones might be out of use but your creativity is not. You can paste cute heart shapes into the old rotary phone after doing a simple paint job on the old thing. You can use conversation hearts and write cute little notes on them and stick them on the phone. The conversation heart rotary phone is a very romantic and creative gift idea for the valentine's day. Get the Tutorial
Log Candle Holders
Now, these may seem difficult to carve but is actually not. You can choose small wood logs and carve just deep enough to fit a small candle. For a romantic touch, you can carve the initials of yours and your partner's names and hearts on the log too. For a romantic setting, place these log candle holders in a cozy place and lit some candles in it for a beautiful romantic dinner. Get the Tutorial
Rustic Valentines Love Banner
The rustic valentines love banner can be made easily at home. You can use few pieces of thick fabric, cut them out in shapes of your choice and put them in a string. For a romantic look, you can put tiny hearts in the banner. You can use this romantic banner to surprise your date by hanging it in front of the door or living room. Get the Tutorial
Valentine Heart Peace Catchall
The Valentine heart peace catchall is something which can be easily made and is also a romantic gift for your loved one on a special day. You can choose a simple heart shaped bowl which is tiny in size. You can choose a white colored bowl and create beautiful embroidery to make it look beautiful. This beautiful handmade piece is surely going to brighten up your partner's mood. Get the Tutorial
Sequined Heart Box Filled With Chocolate
A box of chocolates is always a romantic gift for the loved one. For making the present, you can choose several heart-shaped tiny boxes to put the chocolates in. You can also make the boxes using sequins, colored threads and bard paper. You can spread the different colored sequined heart boxes filled with chocolates on the dinner table along with some sprinklers and glitters and it is just enough to get the romantic dinner started. Get the Tutorial
A Year of Dates
A year of dates is an exceptionally wonderful and romantic gift you can ever gift to your valentine. You can make plans for the whole year ahead and put them in envelopes according to date and month. Arrange these sealed envelopes in a basket and gift it to your loved one. You can also add personal notes over the envelopes for a romantic gift. Get the Tutorial
Stamped Charm Bangle
You can gift the stamped charm bangle on a valentines day as a personal yet romantic gift to your loved one. Select the charm bracelet from any outlet and have your own personal message stamped on the bracelet in the store itself. You can also add small accessories of your choice in the bracelet to make it look cute and beautiful. Gifting a stamped charm bracelet with your own personal message on a valentines day is very thoughtful and charming. Get the Tutorial
Baby Shower Heart Glasses
You can make a romantic start to the valentines day evening by pouring a drink to your partner in the heart glasses which you can easily make. For that, you have to choose small sized plain glasses. Now you can add decorations of your choice to the glasses. You can stick pretty heart shapes outside the glass to make your partner feel special and romantic on a special evening. Get the Tutorial
Mason Jar Music Bunting
Create this beautiful item for your valentine out of a regular jar. You need a clear glass jar, colored ribbons, some heart shapes and that's it!! Put the musical notes inside the jar with some heart shapes to start the romantic day with your special one. The mason jar music bunting is something which looks so pretty and is very creative. Get the Tutorial
Dip-Dyed Treat Bags
Make a treat bags by using tiny cloth bags and dipping them in colored paints. Fill the dip-dyed treat bags with chocolates or candies and tie them with colored strings. You can also add personalized notes and tie them up with the strings to close the mouth of the treat bags. The treat bags are the sweetest gifts you could gift to someone you love. Get the Tutorial
Valentines Heart Attack
You can definitely give a sweet attack to your valentine with this beautiful and creative valentines heart attack. Take a medium-sized cardboard box and fill it with heart shapes of different colors and sizes. Also decorate the box with love hearts and gift it to your loved one. Get the Tutorial
Chalkboard Mason Jar Candle Centerpiece
You can beautiful candle holders with small glass jars at home. All you need is heart-shaped stickers, black paper, and black spray paint. By painting and then covering the jars with black, you can add a new look to the jars. By adding some silver strings at the mouth and putting a candle inside, you can have your romantic dinner at the table. Get the Tutorial
Chocolate Covered Pretzels
If you want to gift some sugary treats to your valentine, the chocolate covered pretzels are just perfect for the special day. You can add a chocolate covering to the pretzels and place them on a nice dish. To make it look prettier, you can add some colored sprinkles on the top. These pretty treats will definitely make you and your partner's mood set for the celebrations ahead of the special day. Get the Tutorial
Valentine Heart Candle
Now you can make your romantic candlelight dinner more romantic with the valentine heart candle. It is easy to make too. You can either take a red tea candle or make your own candle at home. After that, you can cut out beautiful and tiny heart shapes out of white paper and stick them to the candle along with some strings wound around it. This beautiful candle will definitely kindle the romantic feelings of your partner. Get the Tutorial
Travel Picture Frame of Your Travels Together
Gifting a picture frame cannot be more romantic. You can choose a nice frame and select one of the favorite photos of your tour together with your loved one. Select one of the best moments of your trip and put inside the frame. also you can customize the photo frame and add some personal touch to make it more romantic. Get the Tutorial
Simple Origami Envelope for Him
Origami is so much handy art when it comes to gift something for your loved one. You can convert a simple sheet of paper into a beautiful envelope. You can then make your drawings and cutouts with personal notes addressed to him. The simple origami envelope is sure to put a smile on his face on the very special day in a simple way. Get the Tutorial
Flannel Heating Packs & Hand Warmers
With a bit of creativity and sewing skills, you can easily make the flannel heating packs and hand warmers. You can choose cute shaped flannel fabrics and soft stuffing material to make them. The heating packs and hand warmers are a very thoughtful gift for your special someone and it really shows how much you care. Get the Tutorial
"Open When" Envelope
The "Open When" envelopes are a very nice gift for your special one on a special day. You can make brightly colored envelopes with "Open When" quote over each one of them. Complete the sentences differently in each of the envelopes with cute drawings. You can fill different memories and things which depict your love for your partner and fill inside the envelopes. You can present this stack of the envelope to your loved one on valentines day. Get the Tutorial
Seven Days Of Love
You can present this sweet little gift to your sweet partner on a special day. It is also easy and thoughtful to make. For this, you need a simple pillbox where there are seven compartments for seven days. You can fill each compartment with candies and a beautiful handwritten note in each of them. You can also make many such boxes and gift it to your loved one on a special day. Get the Tutorial
White Chocolate Popcorn
Planning to spend the valentines day at home with your beloved? There is nothing more romantic than watching a nice movie together after a romantic dinner. And popcorns are the best way for a movie treat anytime. You can make a bag of the white chocolate popcorn and treat your partner to the sweet treat to a romantic movie. For a more romantic setting, you can also use heart-shaped sprinklers on the popcorn. Get the Tutorial
Chalkboard Painted Mugs
You can easily paint few mugs and place them on a nice tray for valentines day. You can put a different treat inside the painted mugs and present them as a set to your beloved. The chalkboard-painted mug is a beautiful handmade gift for your loved one. Get the Tutorial
Memory Candles
You can very easily make the memory candles with a clear tea light holder and stick a favorite picture etching of both of you together. Also you can present the set of memory candles to your beloved on a special day. You can also use the memory candles to light candles inside and have a nice romantic dinner at home. Get the Tutorial
CD Wallet Scrapbook
You can easily convert a CD holder to a handmade scrapbook and arrange favorite pictures of you two together along with personal notes. This unique gift will definitely remind your partner of the love you have for him/her. This unique gift can be made easily at home and is also very romantic. Get the Tutorial